The Carlton - Agaillon Gateaux
A fellow Boardman resident, Agaillon Gateaux, recently released his house as a pre-fab home, maybe I am a tad bias because he is my neighbor and a friend, but it's a lovely design.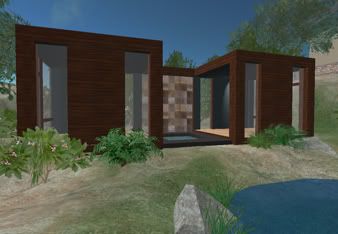 At 37 prims and a 27x10 foot print it's suitable for even 512 meters of land sparsely furnished (minimalist furnishing to match a minimalist design!).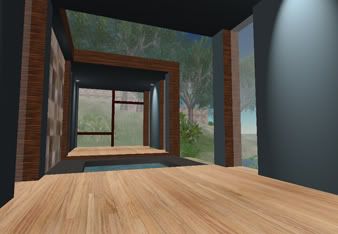 What I particularly like is the design is adapted to SecondLife. It's one large room but clearly divided into 2 separate areas by a small pool of water. The large windows are also let in the view. Although I'm not a huge fan of the 'baked' textures as some call them (adding shadows and highlights to textures to simulate the way light would flow on them) they are not over done and lighten up the interior, which is kind of dark and warm, which is refreshing in a modern design, so much shiny metal in SecondLife.
See it at:
Boardman
You can buy it at:
Xylo's Prefabs
Or
My Store